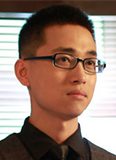 Prof. Yingpeng Wu, Hunan University, China
吴英鹏 教授,湖南大学
Research areas:
① Liquid metal
② Research on electrochemical energy storage and transducer
③ Preparation and application of nanomaterials
Biography: Prof. Yingpeng Wu received his bachelor's degree in Chemistry and Chemical Engineering from Shanghai Jiao Tong University and his Ph. D. degree in Chemistry from Nankai University. After that, he was a postdoctoral fellow at Stanford University and a research associate at UWM.He is currently a professor, dean of Chemistry Department and doctoral supervisor of School of Chemistry and Chemical Engineering of Hunan University. He has won the honor of "National Thousand Young People".In recent years, he has published more than 50 papers in journals such as Advanced Energy Materials, Advanced Functional Materials and Nano Energy, citation more than 8000 times with h factor of 32.